I've published another update for Toytles: Leaf Raking, my family-friendly leaf-raking business simulation available for iPhones, iPads, and Android devices.
Learn how to get it at the Toytles: Leaf Raking page.
Version 1.4.1 is part of what I am calling the "Personality Injection" updates. It builds upon the previous update to give the neighbors even more things to say when you visit them.
Your neighbors are now starting to show their individual personalities. For example, Pierre seems friendly when you first meet him: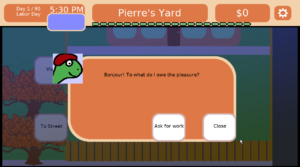 Once he becomes a client, you learn that he is a birdwatcher!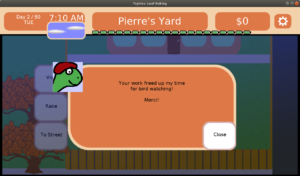 Eventually future updates will allow Pierre to demonstrate his love of birds as well as potentially a few of his other interests.
Of course, if you neglect his lawn and get fired, Pierre will find that he wishes he had his free time back:
Your neighbors are film fans, students, painters, animal lovers, day dreamers, and more.
I hope you enjoy getting to know the neighbors as much as I have been. I can't wait to find out what Pierre discovers.
—
Get the 24-page, full color PDF of the Toytles: Leaf Raking Player's Guide for free by signing up for the GBGames Curiosities newsletter!