GBGames is a solo indie game studio focused on encouraging curiosity and supporting creativity, founded by Gianfranco Berardi.
Factsheet
Developer:
GBGames
Based in Des Moines, IA
Founding date:
March 22, 2006
Website:
https://www.gbgames.com/
Press / Business contact:
gberardi@gbgames.com
Social:
twitter.com/GBGames
facebook.com/GBGamesBlog
Projects/Releases:
Walls
Sea Friends
Stop That Hero!
Toytles: Leaf Raking
Toy Factory Fixer
Also produced Continent Race: World Puzzle
The Dungeon Under My House (in development)
Contact:
Use contact form on About page
History
Aspiring indie game developer
GBGames was founded by Gianfranco Berardi in 2006 shortly before he became employed full-time at a slot machine company in Chicago.
Up until his company was founded, he had mainly worked on small hobby games in QBasic, including a Pac-man clone, and he reviewed QBasic games on a previous version of GBGames.com. He was also a reviewer for independent game review and news site GameTunnel.com.
While the conventional wisdom was to create game demos to get a job at an established game development company, he came across an indie game developer community that encouraged the idea that if you can create a game demo, then you can create a game and sell it yourself.
Being his own boss appealed to him, but first he needed to develop his game development skills. His approach was to create everything from scratch rather than use existing game engines and tools. He reasoned that game engines, platforms, and tools may come and go, but understanding how they are created can last forever.
He has written on GBGames' Blog since 2005, creating posts and articles about all aspects of running an indie game development business, including game design, development, publishing, and marketing.
He participated in game jams, his first being Game in a Day in 2005. His unfinished yet playable entry FuseGB taught him a lot about game development.
He started participating in Ludum Dare in 2008, and he created a game based on the Ludum Dare #11 theme Minimalist. Later that year he created a new version of the game called Walls. In an experiment in outsourcing, he ported Walls to Flash and made a Facebook version of the game called Sea Friends which also allowed players to help contribute towards saving coral reefs in real life.
After he released a few small games and saw people were playing them and enjoying them, he thought he was ready to live the dream and become a full-time indie game developer.
Full-time indie game developer
Years of part-time effort and built up savings gave him the courage to submit his two weeks' notice in May, 2010, moved to Des Moines, Iowa, and started working full-time on indie game development.
Except he did not have a specific game to work on.
So instead of hitting the ground running, he spent the first month watching the 2010 World Cup, blogging about the games on Modern American Soccer, a now defunct website that he planned to use to launch a soccer management MMO. Unfortunately, development of that game stalled.
Eventually, he participated in Ludum Dare #18, with the theme "Enemies as Weapons." In 72 hours, he created and submitted a casual real-time strategy game called Stop That Hero! in which you play the role of the villain.
With no other product plans, he decided to take this prototype and create a full version of it. He thought he could take the weekend effort and turn it into a full game within a month.
After a year of development, he finally released a playable version of the game. It took much longer to make than he anticipated. was never truly finished, and it was not a financial success.
As his savings continued to dwindle, he faced the dilemma of continuing to work on a game that may not bring in more income and creating new, smaller projects which also might not improve his financial situation.
Two years of being a full-time indie game developer with not much to show for it left him with a harder decision to make.
Very, very part-time indie game developer
After he ran out of money, he went back on "corporate welfare", and got a day job again in 2012.
The regular income from the day job meant he had breathing room to do some introspection and figure out his next steps as an indie game developer.
He realized that he was naive and ignorant of the challenges of running an indie game business, and he is glad that he was because he is not sure if he would have made the full-time attempt if he did know better.
He has since identified a vision, mission, and purpose for GBGames.
The GBGames Vision
A world in which curiosity is encouraged, creativity is supported, and continuous learning is promoted.

I see a world in which children are allowed to explore their world at their own pace.
Where questions are encouraged and interests are fostered.
Where creation is seen as more enjoyable than destruction or passivity.
Where interests in learning and self-improvement thrive.
He has worked very, very part-time since returning to a day job in 2012, but he hopes to slowly but surely build up GBGames into his full-time focus eventually.
After spending time working on small one-month game projects for One Game a Month and entering Ludum Dare competitions, he started work on his first major commercial project since Stop That Hero!
Toytles: Leaf Raking and contract work
At the beginning of 2016, he created a project plan and a road map for a leaf-raking business simulation. He had a goal of finishing the project in 90 days.
He published the Android version of Toytles: Leaf Raking in October of 2016, about 10 months later. In 2017, he made plans to port it to other platforms.
But in March he started working on a contract to create a geography game, using all of the project planning and production experience he had gained. Being a part-time developer, he realized relatively quickly that he couldn't work on both the contract and his own games, and only one was paying regularly.
He worked on the geography app for what would turn out to be three years.
Once the geography app was published in 2020, he was happy to finally return to working on ports and feature updates for Toytles: Leaf Raking for the remainder of the year.
At the end of 2020, after seeing little to no sales from Toytles: Leaf Raking, he created the GBGames Product Development Strategy, which focused on creating free games to attract an audience.
Freshly Squeezed Entertainment and Toy Factory Fixer
These free games would be part of the Freshly Squeezed Entertainment line: polished, playable prototypes that provide complete entertainment experiences. They are freely available, with no ads, no in-app purchases, and no personal data tracking.
With Freshly Squeezed Entertainment, the ultimate goal was to quickly find something that resonates with an audience and create a "deluxe" version for sale.
Initially the plan was to create one game each month. The first Freshly Squeezed Entertainment project was Toy Factory Fixer, a turn-based toy factory management game in which you hire and workers to ship toys. The project started in December of 2021, but instead of being a one month project as planned, it took about a year to develop and publish.
Current
The revised plan for 2023 was to create two Freshly Squeezed Entertainment games, which might also be too ambitious. The second Freshly Squeezed Entertainment project, The Dungeon Under My House, is a non-violent first person dungeon crawler, and it is similarly taking a very long time to work on.
Images
Gianfranco Berardi with typical orange juice drinking pose:

Logo & Icon
GBGames
Light background PNG: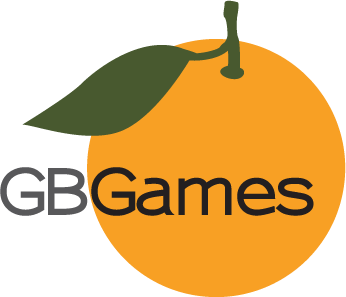 Dark background PNG:
Freshly Squeezed Entertainment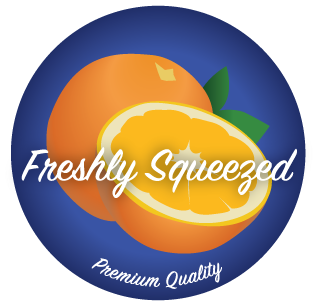 From Concentrate