The leaf-raking business simulation game that teaches responsibility and strategic thinking.
Factsheet
Developer:
GBGames
Based in Des Moines, IA
Release date:
October 22nd, 2016
Platforms:
Android
iOS
Windows
Mac
Linux
Website:
https://www.gbgames.com/toytles-leaf-raking/
Regular price:
$5.99
History
Toytles: Leaf Raking started life as a physics-based One Game a Month project during 2013. In 2015, a full version of the game was started, but after a few months, the physics and entire nature of the game was abandoned to create a leaf-raking business simulation instead. Inspired by games such as Lemonade Tycoon and The Oregon Trail, the game was designed to allow the player to choose their own pace, make decisions, and then see the results of those decisions.
Features
Turn-based, strategic game play allowing players to go at their own pace
19 neighbors as potential clients in five neighborhoods, each with three different sized yards and trees
Daily weather with wind causing leaves to fall on yards based on number of trees adjacent and rain preventing the player from raking
Using rakes wears them down, uses time, takes energy, and requires yard bags to collect leaves
Bedtimes, school hours, holidays, and weekends constrain when the player can work on client yards
A general store to purchase supplies such as yard bags and three types of rakes, as well as the Ultimate Item(tm)
Parents in the kitchen give advice about playing the game well
Help buttons that define terms about entrepreneurship and explain choices to the player
No ads, no in-app purchases, and no violence
Images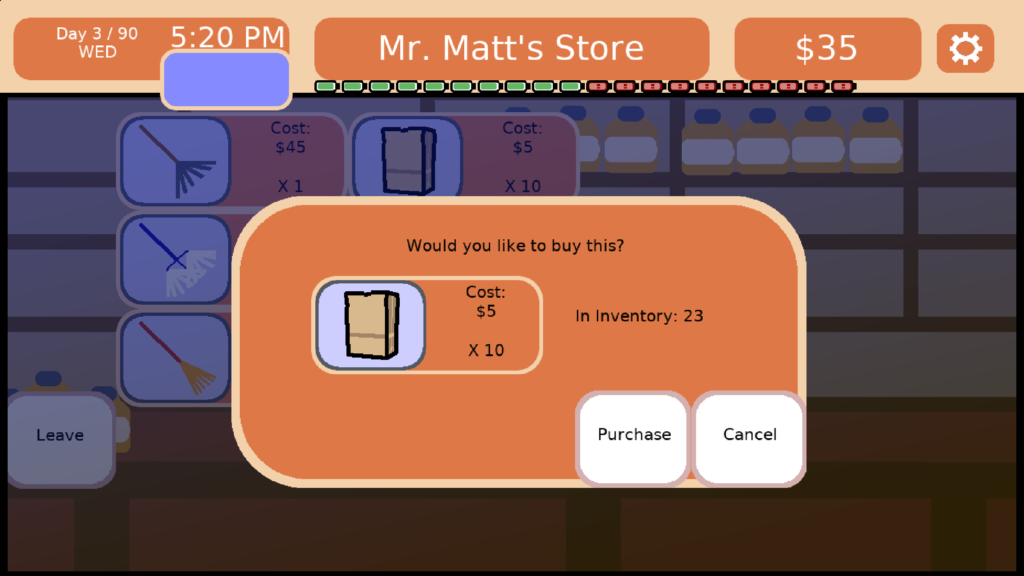 Logo & Icon
The first of the From Concentrate line of entertainment:
About GBGames
GBGames is a solo indie game studio focused on encouraging curiosity and supporting creativity, founded by Gianfranco Berardi.