I took a short break from development because I wanted to spend time assessing the past year and figuring out my plans for 2021. I didn't report on my progress since my last report when I talked about the lessons learned in terms of prioritizing what gets done, so I'll bring you up to date with what I've done since then.
Sprints 3 and 4: main game loop
Create mockup for game play screen
Create in-game menus
Create toy
Create toy dispenser
Create shipping container
I changed the conveyor belts I created last time so that they were easier to see at a glance which direction a toy would go when on them. They animate now, which looks nice enough, but since the game will be turn-based, they need to be readable when static.
To help me get a sense for how to implement the next things in a game, I find useful to create a mock-up.
I used my conveyor belts, my new toy stuffed bear, and my existing buttons, but then I quickly created a toy factory worker and some buttons on the side for advancing one turn and for hiring workers.
It's not a finished mock-up, and the finished game might look a bit different, but it does give me a sense of where things are going.
My main goal for the last week was to get a toy dispensed, get it to travel along the conveyor belts, and deposit into a shipping container. Of course, as I said above, I did very little game development.
I managed to get the toy bear in the game, but I don't have the logic to move it down the conveyor belts yet.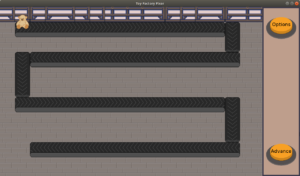 I did draw a toy dispenser on paper that I really liked:
But I didn't draw a shipping container, which I imagine will just be a box with flaps.
Considering I only put 2 hours of game development in last week, partly due to being distracted by a fascist insurrection at the Capitol Building, it's understandable that I didn't get everything I wanted done.
I expect that in the coming week I will get all of the above done, add another toy type, and can move on to the mechanics of hiring toy factory workers soon.
Thanks for reading!
—
Want to learn when I release updates to Toytles: Leaf Raking or about future Freshly Squeezed games I am creating? Sign up for the GBGames Curiosities newsletter, and get the 24-page, full color PDF of the Toytles: Leaf Raking Player's Guide for free!