In my annual review blog post, I shared that I wanted to get better at drawing, so I decided to do at least one doodle per day in 2020.
Besides taking a drawing and a painting class in high school, I am mostly self-taught as an artist, which means that a lot of basic principles and such are things I either only recently came across or still don't know.
I learned about the book "Fun with a Pencil" by Andrew Loomis from Hayden "Docky" Scott-Baron, and I used it to help me learn how to create faces and bodies of various sizes and shapes.
I was actually hoping to finish the book, but I'm at the part where I am creating rooms and scenes, so I'm dealing with perspective. While my doodles were once a day, the book was something I looked at periodically to learn the next lesson.
I also watched the Great Courses series on How to Draw, and between the two of them, I've learned the value of shape, volume, and drawing with a darker pencil once you figure out the shapes you want with a lighter pencil. B-)
Here's how my doodles looked at the beginning of the year: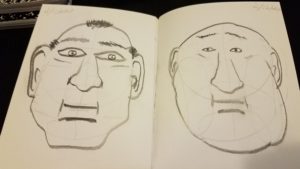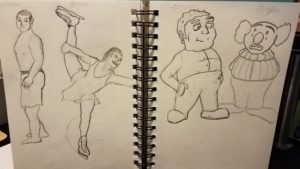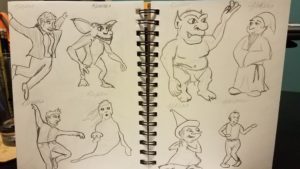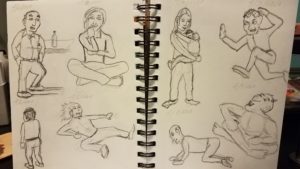 About midway through the year I started to focus on drawing hands and feet when I realized that my characters can't always have their hands in their pockets:
I love this sad clown character who kept popping up in my doodles: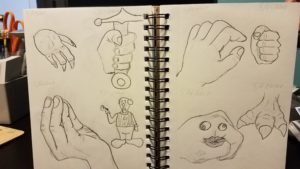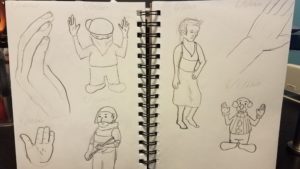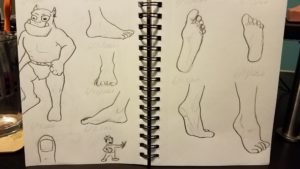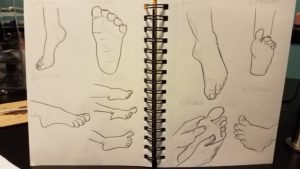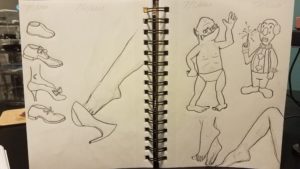 Later I started to draw monsters, and I tried to add shading and details to make things more realistic. Other times, I tried to make things more abstract and cartoony. Sometimes my phone's camera started identifying faces, which I took as a good sign of my progress: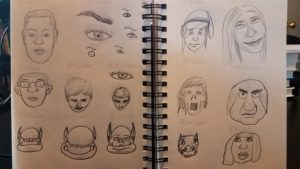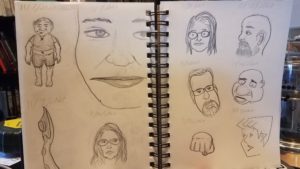 I periodically had to catch up when I missed a day or a few days, but otherwise, I managed to not only draw something each day but also draw better than I had a year ago.
It's exciting to have learned so much and start to recognize concepts and ideas that I didn't know existed at the start of 2020, as well as understanding how much more I don't know exists.
Sometimes I rushed to get a doodle done, and other times I took the opportunity to explore reference art and practice trying something new. But it was fairly low pressure, and I enjoyed the habit. I plan to continue it in 2021.