Here's information about another one of my Personality Injection updates for Toytles: Leaf Raking, my family-friendly leaf-raking business simulation available for iPhones, iPads, and Android devices.
Learn how to get it at the Toytles: Leaf Raking page.
There are two major changes in this release.
Streamline waiting for rain
Waiting for the rain to stop so you can rake a yard is now less tedious. Your options before were to wait 10 minutes or to wait an hour.
The idea is that drizzle starts and stops every 10 minutes, but heavier rain starts and stops at the top of the hour, and so here are two options to match.
But the problem was that you might try to rake leaves in the middle of an hour. For example, let's say that it is 3:40pm and raining. If you try to rake some leaves, you'll be told it is raining and given the two options above. The optimal thing to do is to wait 10 minutes twice because it might stop raining at 4:00pm. The less optimal thing to do is to wait an hour, because then it would be 4:40pm. You would lose 40 minutes of time in that case.
But the optimal decision is annoying, especially if it were 4:10pm and you would have to wait 10 minutes five times!
So I changed it.
Now you can either wait 10 minutes or wait until the end of the hour, which is what you were trying to do anyway.
Hopefully this change makes the game more enjoyable and less frustrating.
Unhappy client dialog
In keeping with the Personality Injection theme, your clients now say something unique when you neglect your work and allow too many leaves to remain in their yard.
You already get a report from your mother at the beginning of your work day to inform you who is getting concerned about their yard, but now when you visit grumpy clients, they can express their grumpiness to you in person!
Mrs. Smith is a sweet elderly turtle who never has anything bad to say about you.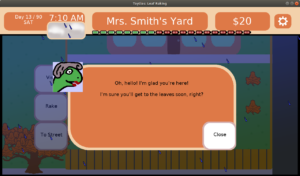 Other neighbors are a bit more direct about their displeasure.
Future updates will continue to allow your neighbors to share their hopes, dreams, aspirations, and fears with you, as well as the occasional reminder that you have a responsibility to do what you said you would do. I continue to look forward to meeting the neighbors with you.
—
Get the 24-page, full color PDF of the Toytles: Leaf Raking Player's Guide for free by signing up for the GBGames Curiosities newsletter!