What I reported in last week's report was that I had made little progress towards implementing anything resembling game play, and I planned to do so in the next week.
Sprint 6: main game loop
Create shipping container
Create broken/bad toy
Create hire button
Create worker
In the spirit of moving faster, I added a shipping container by merely reusing the toy dispenser art.
I added a toy doll, and then I made the dispenser create broken, "bad" toys in which the head of one is on the body of the other.
And I added a hire button, which opens up a new menu that doesn't currently let you do anything but go back to the main in-game menu.
Then, in forgetting about the need for expediency, I spent quite a bit of time creating a worker. Or rather, the concept art for a worker.
I started by researching cartoony elves, as I want the factory workers to be somewhat magical, then I created bunch of sketches. Finally, I created a base sketch of one digitally, then experimented with its looks.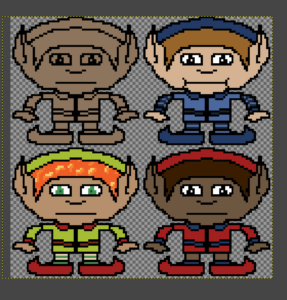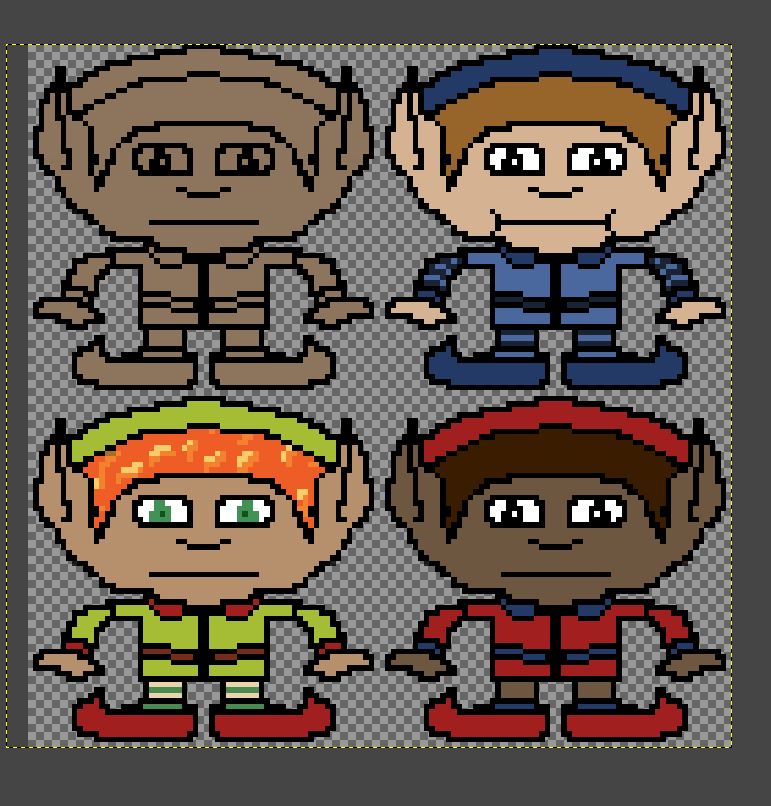 It's amazing how different the same drawing can look when you apply different hues and patterns.
While it was enjoyable to spend time on it, and I think the art will look a bit better for it, the worker still isn't implemented in the game, which means I still haven't created anything to play test yet. I can't experiment with whether or not the game play I designed will actually work well or fall on its face.
For various reasons, I've spent less than 5 hours a week on this project, and it's not getting done any faster. I spent time thinking about what I need to do to get things finished faster, and the most impactful change I can make to my development process is to make things quick and ugly.
I mean, I'm not an artist by trade, and I'm sure the art you see is already ugly, but my point is that I am spending a lot of time to make art slightly less ugly rather than focusing on getting to game play and making it less broken or uninteresting.
It's not that I think art doesn't matter, but right now, I have a lot of unanswered questions about how the game should even work. What does it cost to hire a worker? How much currency should the player start with? How does worker placement work in terms of player user experience? Is the play area too large or too small? Should a worker automatically do work when an opportunity presents itself, or should the player control when they start working? How do I indicate that a worker is working versus waiting to work? There are many more, and more will come up as the work continues.
And I need to focus on answering those questions, because the question of "Is this game ugly?" is already answered, and my goal isn't to make a pretty game but an entertaining one.
Thanks for reading!
—
Want to learn when I release updates to Toytles: Leaf Raking or about future Freshly Squeezed games I am creating? Sign up for the GBGames Curiosities newsletter, and get the 24-page, full color PDF of the Toytles: Leaf Raking Player's Guide for free!